Pastor/Elder: Andrew Violette
Pastoral Role: Preaching, Administration, & Overseeing Youth Ministries
"Originally from the U.S.A., Andrew has been called to help build up the church in Fredericton. At bible school, he met his wife, Tara-Lee, who was born and raised in Nova Scotia. Andrew and Tara-Lee have devoted their family to serving God and investing into the kingdom of God in Lincoln."
Favorite Verse: "…in whom [Christ] we have boldness and access with confidence through our faith in him." (Ephesians 3:12)
Favorite Quote: "The highest form of prayer is not 'Thy will O God, not mine' but 'Thy will O God is mine.'" – Albert Richardson (The Kneeling Christian)
Pastor/Elder: John Mclean
Pastoral Role: Visitation, Teaching, & Discipleship
John is married and the father of two adult children. He was raised by godly parents and made his personal public profession of faith in Christ in his teens. He studied theology in Saskatoon, and took Personal Care training in Fredericton.
He has served as a sign language interpreter, personal care worker, job coach, counselor, and Bible teacher. As a writer he has published well over a hundred articles and currently writes a weekday blog at thebrokenrunner.com.

Favorite Pastime: 1957 😄 Actually it's going for long trail walks.
Favorite Verse: "I press on to take hold of that for which Christ Jesus took hold of me." (Phil. 3:12b)
Favorite Quote: "I believe in Christianity as I believe that the sun has risen. Not only because I see it, but because by it I see everything else." – C.S. Lewis, Is Theology Poetry? (1945)
Worship Leader: Becka deHaan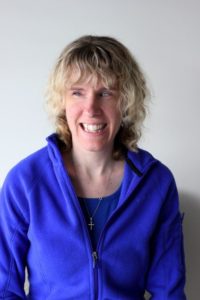 Becka deHaan is a full-time recording and performing artist, with a piano certificate from the Royal Conservatory of Music, and a degree in theology from Canadian Mennonite University.
She enjoys leading the congregation in cross-generational fashion, from popular contemporary worship songs, to simple-yet-soulful interpretations of traditional hymns or carols. She feels a calling from God to lead everyone, regardless of their singing capabilities or lack thereof, in song, new or old, to the Lord.
Favorite Pastime: Card games, or group games (provided the latter is sufficiently verbal, : ).
Life Verse: "Take my yoke upon you and learn from me, for I am gentle and humble in heart, and you will find rest for your souls. 3 For my yoke is easy and my burden is light." Matthew 11:29-30
Favorite Quote: "Let us sing now, … in order to lighten [our] labors. … Do not be lazy, but sing to make your journey more enjoyable." -St. Augustine of Hippo